Thanks to your support we have rescued 960 dogs and 778 cats from being killed/euthanized at local animal control shelters.
We have also assisted other rescue groups by sponsoring the spay/neuter of 139 cats and 23 dogs for low income families, which we estimate will save the lives of at least 1390 shelter cats and 368 shelter dogs.
Dog Rescue Program

If you are interested in this challenging position, contact Melinda at 541-607-8892 for more info.

"To a dog confined in a 4-by-12 foot pen, facing death in as little as three days if the shelter gets too full, the arrival (of S.A.R.A) has got to be the canine equivalent of winning the lottery."

<![if !supportLists]> - <![endif]> From The Sunday Register Guard, June 8, 2003 article by Randi Bjornstad.

Since S.A.R.A. was first formed in January of 2001, we have been rescuing dogs from euthanasia at local and regional animal control shelters. Working closely with the staff members of each shelter, we identify those dogs who have not been reclaimed or adopted, and are in danger of being killed to make room for incoming dogs.

We meet and spend time with each dog, to determine how we can best assist him or her to find a new home:

1) Oregon Humane Society's Transfer Program

If the dog is fairly young, friendly and healthy, he or she may be eligible for transfer to the Oregon Humane Society (OHS) in Portland for adoption. SARA volunteers graciously donate their time and use of their vehicles to drive dogs to OHS so that loving new homes can be found for them there.

2) Rescue Groups

Dogs that are very shy or frightened; are 9 or more years old, are physically challenged; or are a pit bull, rottweiler or mastiff mix; are not usually eligible for Oregon Humane Society's adoption program. In these cases, we work with a wide variety of other rescue groups and humane societies to try to find a safe place for the dog to go while a new home is sought for him or her.

3) S.A.R.A.'s Foster/Adoption Program

When dogs don't qualify for the above programs, and a kind person in the community is willing to open his or her home to a foster dog, S.A.R.A. will take the dog into our own foster program, have him or her spayed/neutered, vaccinated and treated for any medical issues. We will then find a new, loving home for the dog through Petfinder.com, newspaper ads, posters and any other means possible.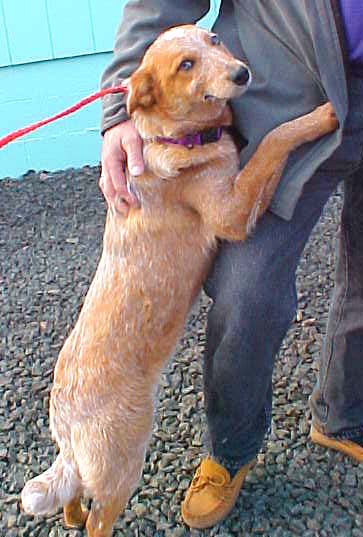 Rusty - a deaf 6 month old Heeler (Cattle Dog)pup - rescued from euthanasia at the Linn County (Albany) animal control with the help of the Pet Adoption Network.
A loving home was found for him by the Australian Cattle Dog Rescue group in Washington state. Amber & Eric have taught Rusty sign language, and he enjoys playing with his new sister, Sheila, who is also a Cattle Dog mix.